Announcements
December 17, 2020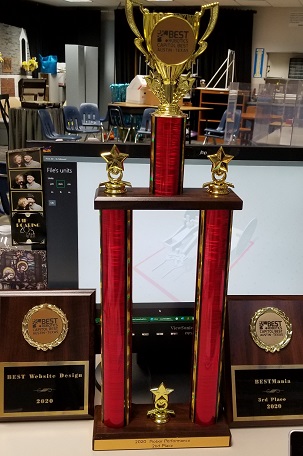 For the fourth time and the second year in a row, the Holy Family Catholic School Iron Angels have earned the title of "Texas BEST Robotics Championship Team" proving that our little middle school can "think outside the box" as well as any high school.
This season's challenge - "OUTBREAK, Adjusting to the Threat" – started with twenty-eight teams. Holy Family designed a virtual (CAD) robot named St. Edmund that could isolate cells, detect healthy cells vs. infected cells, and deliver a vaccine when needed giving them a second-place finish in the head to head virtual robotics tournament.
In the COVID Minecraft Challenge, hosted by UT Dallas, they built a clinic, tapped rubber trees and mined to produce PPE and find cures for patients. In round 1 the Holy Family virtual clinic came in sixth place beating over 20 high schools in the Austin area. After round two, we currently stand in first place nationally! The national competition continues until midnight on December 31st.
Other awards earned include a third place finish overall in the BESTMania Skills Quiz and a first place finish in the website design challenge.
The Iron Angels worked online through Microsoft Teams and Zoom to overcome numerous obstacles to ensure they were well represented. Please join us in congratulating this talented, creative, competitive and motivated group of middle school students.