Honoring Mrs. Kelly Walker
December 09, 2019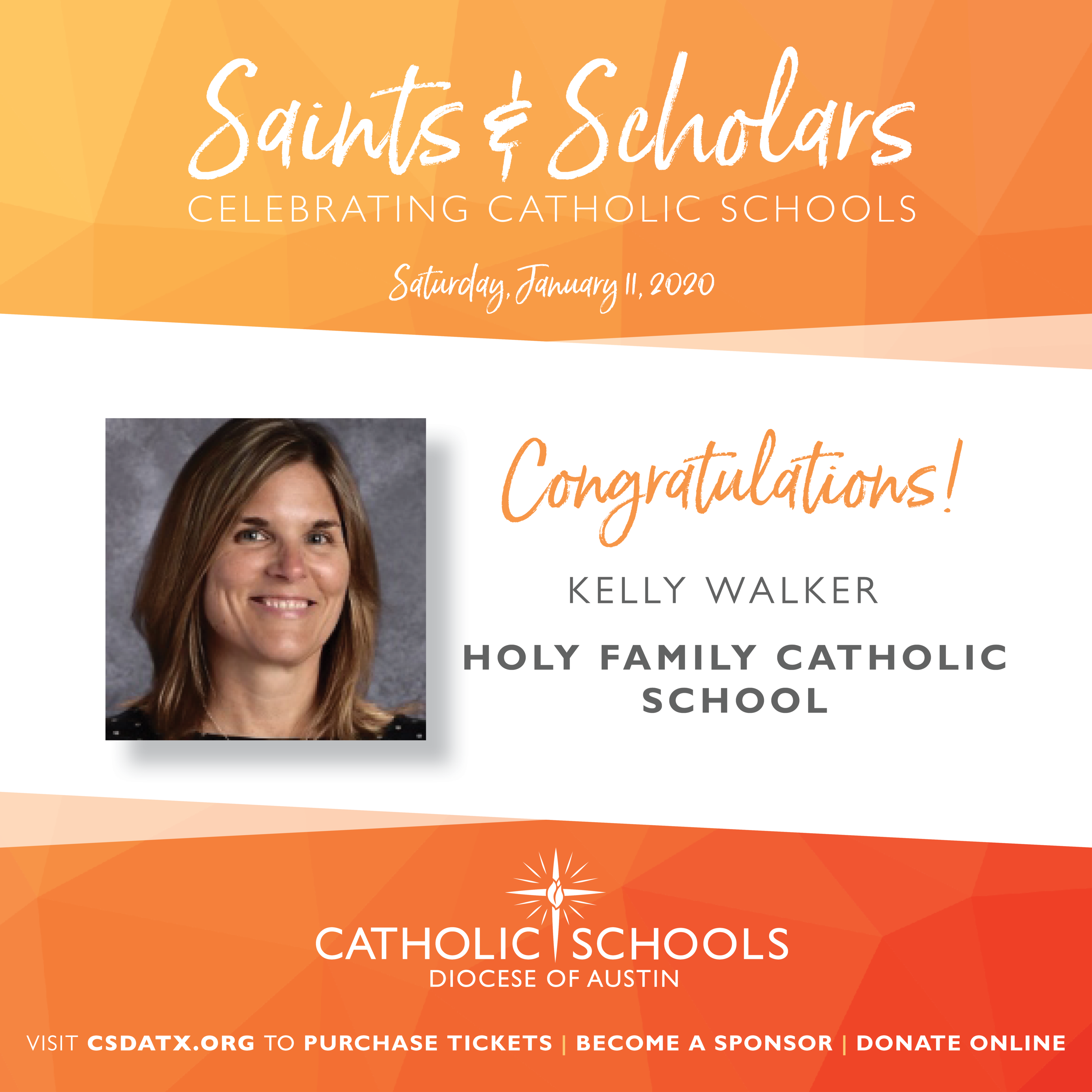 Join Catholic Schools in the Diocese of Austin for an evening of celebration in honor of 20 Diocesan school heroes on Saturday, January 11, 2020, at the Hyatt Regency in Austin (208 Barton Springs Rd, Austin, Texas 78704). These individuals are members of our communities who give so much to advance the mission of Catholic schools in the Diocese of Austin.
About Our Honoree
It is our honor to recognize Mrs. Kelly Walker for the Catholic Schools Service Award for the 2019-2020 school year. Mrs. Walker was a founding parent at Holy Family in the fall of 2000. She began substitute teaching in 2003 and joined the office staff as an administrative assistant in 2007. She has served as the Administrative Assistant to the Principal since 2013 and has become an irreplaceable member of the office staff. In addition to her role as an Administrative Assistant, Mrs. Walker has also served as the health assistant for the school, and as the Athletic Department Assistant, and has overseen all ordering of materials and supplies for Holy Family.
Mrs. Walker has always been a positive promoter of Catholic education. She has given generously of her time, talent and financial resources and has always encouraged others to consider giving back to our school community. Mrs. Walker meets every person who walks through the office doors with kindness, patience, and compassion. It is this strong spirit of service that provides our school community with such a positive role model of the Catholic school supporter. The saying, "The principal's secretary really runs the school," was created with Mrs. Walker in mind.
Please save the date and help us honor Mrs. Kelly Walker this year. Please register for the event on the Diocese of Austin registration page. This year's keynote is Abby Johnson, you don't want to miss this event!
Schedule of the Event
6:00 PM - Saints & Scholars Reception
7:00 PM - Awards Dinner
9:00 PM - Saints & Scholars Social
--
Holy Family Catholic School is a regional school that works with parents to nurture the growth of the whole child - spiritually, intellectually, socially, emotionally and physically. Our school is Catholic - promoting the teachings of the Church and inclusive of diverse cultures and socioeconomic backgrounds. For any questions, please contact Ms. Cristina Mares by email at cmares@holyfamilycs.org.